Here's Where your gonna find out all about me!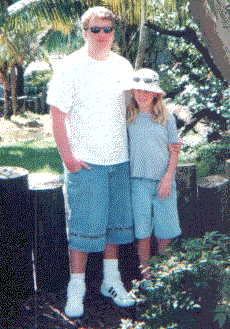 Yup...thats me, with my sister meg. We're at Busch Gardens in this pic.
Anyway...what do you wanna know? Well...I live in Newport, Rhode Island. Not a bad place to live, except in the winter cuz theres absolutly nothing to do. I spend the summers working at Gooseberry Beach (not a bad job, i mean i could be spending my summer stuck in the kitchen at some restaraunt washing dishes or somthing) I also spend alot of time hanging around my pool in the summer.
I'm 15 years old. I have a twin brother, Andrew, and a little sister, Meg.
My best friend is Claire. I love her more than anything and she means the world to me. She's my Princess. (In The Arms of Sleep)
---